Through a partnership between the City of LaPrairie, Minnesota and Get Fit Itasca a temporary mini-roundabout, or neighborhood traffic circle, was installed to introduce the concept of traffic calming to a residential neighborhood.
Mini roundabouts have increased in popularity throughout the past few years as they have been successfully implemented across the country as traffic-control systems. They require very low levels of maintenance to attain a general smoothness of traffic flow and are therefore cheap and efficient solutions to decrease vehicle speeding while increasing bike-pedestrian safety. 
This simple roundabout, made of donated/borrowed hay bales, roundabout signs, and a small tree, was of zero cost to the city to construct. It remained in place for roughly three weeks while Get Fit Itasca used a radar gun to collect driving pattern data regarding the speed of vehicles utilizing this intersection. The roundabout was located at the four-way stop intersection of Fraser Street and Voges Avenue in a residential neighborhood. Both of these streets are long and straight, making it easy for cars to often travel on at speeds surpassing the posted limit. The roundabout was a perfect inexpensive way to ensure the success of a new system before spending unnecessary money.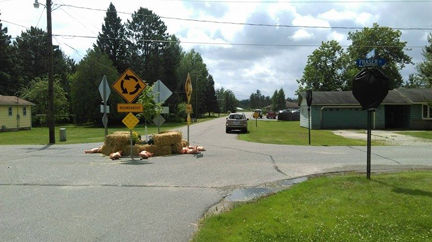 Photo submitted to the Herald-Review by Nyla Schneeweis
During the demonstration period of this pop-up, city officials gathered opinions from community members on their view about the mini-roundabout. A majority voiced positive thoughts, as they saw it as a way to improve the community by slowing down traffic and providing safety for those that regularly walk or bike at this intersection. The radar data taken by Get Fit Itasca proved that the mini-roundabout did reduce the speed of auto traffic traveling on these two streets. The noticeably decreased speeds resulted in increased pedestrian traffic, which meant the pedestrian-friendly traffic-calming goal was successfully met. Permanent structures to build in the future are now under consideration.
Photo submitted to the Herald-Review by Nyla Schneeweis
---
References:
Bergstedt, Nathan. "City of Laprarie Explores Temporary Roundabout." Herald-Review. Web. 25 Jul. 2015. <http://www.grandrapidsmn.com/news/city-of-laprairie-explores-temporary-roundabout/article_15f39732-324b-11e5-b97a-7b3f0ffd80a7.html>.  

Fall, Mike. Mayor. Background Information: GreenStep Coordinator. Web. 20 June 2016. <http://greenstep.pca.state.mn.us/cityInfo_pdf.cfm?ctu_code=2395572>.