National Models and Resources
Through a partnership between the City of LaPrairie, Minnesota and Get Fit Itasca a temporary mini-roundabout, or neighborhood traffic circle, was installed to introduce the concept of traffic calming to a residential neighborhood.
Mini roundabouts have increased in popularity throughout the past few years as they have been successfully implemented across the country as traffic-control systems. They require very low levels of maintenance to attain a general smoothness of traffic flow and are therefore cheap and efficient solutions to decrease vehicle speeding while increasing bike-pedestrian safety. 
This simple roundabout, made of donated/borrowed hay bales, roundabout signs, and a small tree, was of zero cost to the city to construct. It remained in place for roughly three weeks while Get Fit Itasca used a radar gun to collect driving pattern data regarding the speed of vehicles utilizing this intersection. The roundabout was located at the four-way stop intersection of Fraser Street and Voges Avenue in a residential neighborhood. Both of these streets are long and straight, making it easy for cars to often travel on at speeds surpassing the posted limit. The roundabout was a perfect inexpensive way to ensure the success of a new system before spending unnecessary money.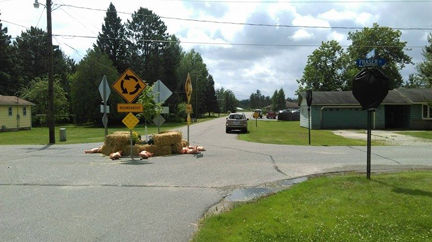 Photo submitted to the Herald-Review by Nyla Schneeweis
During the demonstration period of this pop-up, city officials gathered opinions from community members on their view about the mini-roundabout. A majority voiced positive thoughts, as they saw it as a way to improve the community by slowing down traffic and providing safety for those that regularly walk or bike at this intersection. The radar data taken by Get Fit Itasca proved that the mini-roundabout did reduce the speed of auto traffic traveling on these two streets. The noticeably decreased speeds resulted in increased pedestrian traffic, which meant the pedestrian-friendly traffic-calming goal was successfully met. Permanent structures to build in the future are now under consideration.
Photo submitted to the Herald-Review by Nyla Schneeweis
---
References:
Bergstedt, Nathan. "City of Laprarie Explores Temporary Roundabout." Herald-Review. Web. 25 Jul. 2015. <http://www.grandrapidsmn.com/news/city-of-laprairie-explores-temporary-roundabout/article_15f39732-324b-11e5-b97a-7b3f0ffd80a7.html>.  

Fall, Mike. Mayor. Background Information: GreenStep Coordinator. Web. 20 June 2016. <http://greenstep.pca.state.mn.us/cityInfo_pdf.cfm?ctu_code=2395572>.
---
In an effort to increase city attractiveness and biker safety while reducing pollution in Minneapolis, Minnesota, the Bicycle Coalition created a Bikeways for Everyone campaign supporting the design and construction of 30 miles of protected bikeways to be in effect by 2020.
The coalition first introduced this campaign to the general public by transforming one block of an Open Streets event to include a protected bikeway. Open Streets events temporarily close major roadways to car traffic to create a safe environment for residents of all ages and abilities to walk, bike, skate and play. These events bring together community groups and local businesses to encourage active transportation and healthy living, giving residents the opportunity to think of their streets as a public space.
This Pop-Up cycle track, or protected bikeway, was easily created by the coalition utilizing 15 plywood planters as barriers to separate the bike lane from pedestrians at the city's four summertime Open Streets events. This proved to be a hit in the community, where those utilizing it were clearly more at ease to travel to their various destinations by bicycle, especially when children were involved.
Chrissy Lee of the Minneapolis Bicycle Coalition sets up a "pop up" bike lane demo
By putting a map of the entire city at the end of the cycle track, residents were able to mark streets they believed were in need of a protected bike lane. These proved to be many and very widespread. A majority of all who traveled on this lane hope to see the campaign successfully completed by 2020.  
This 1-day, 1-block demonstrations proved to be the spark that ignited the protected bike lane fire across America. During the summer of 2014, communities from small-town Kansas to downtown Atlanta created their own handmade barriers to build temporary bikeways to spread this concept and awareness throughout society.
Photo by Kristina Perkins for BikewaysForEveryone
---
References:
Anderson, Michael. "Steal This Idea: A $600 Protected Bike Lane Demo at an Open-Streets Event." Green Lane Project. Web. 24 Jan. 2014. <http://www.peopleforbikes.org/blog/entry/steal-this-idea-a-600-protected-bike-lane-demo-at-an-open-streets-event.>

Bikeways for Everyone. Web. 20 June 2016. <http://www.bikewaysforeveryone.org.>.

"Dance. Bike. Play!: Experience your streets in a whole new way!." Open Streets MPLS. Web. 20 June 2016. <http://www.openstreetsmpls.org>.  
---
Though Park Hill in North Little Rock is known as an area of strong community and business fabric, the highway that courses through the neighborhood with little accommodation for pedestrians and cyclists made it a prime candidate for the 2014 Better Block Project demonstration.
This highway has 4 lanes with high speeds and continuously cuts between intersections and parking lots, making it almost impossible to travel along the three blocks safely and efficiently. The Pop-Up in the Rock project exhibited the benefits of complete streets by placing this area on a temporary "road diet", promoting walk and bike transit by increasing comfort in the surrounding area through signage, crosswalks, bus shelters, and trees/plants.
To begin this process, over 50 community members and Pop-Up volunteers brainstormed ideas for the Pop Up Park Hill. Taking a walking tour down this boulevard, the group gleaned information from business owners and residents about what the demonstration should address. By utilizing local businesses and vendors to maintain continuity between existing buildings and infrastructure, the project created the active street edge necessary for any successful street or block.
Though an immense amount of preparation and coordination was necessary for the month leading up to the demonstration, the donated materials made it possible to build the required fixtures to sufficiently achieve the active street edge. From free concerts and beer gardens to bike stations and outdoor galleries, the community was able to be involved in its own success.  
The event was well-received by the community, drawing in visitors from all over North Little Rock and Little Rock to experience the change. By transforming the neighborhood into a community-based locale, the Pop-Up event symbolized the potential that small scale transportation development can have on a city.
---
References:
Pop Up in the Rock. AIA Arkansas. Web. 20 June 2016. <https://www.aiaar.org/awards/entries/detail/pop-up-in-the-rock/>.

Createlittlerock. "PopUp 2013." Online video clip. YouTube, 17 December 2013. Web. 20 June 2016. <https://www.youtube.com/watch?v=yVYhFIol9RU>.

Hancock, Chris. "Better Blocks PopUp in Arkansas: New urbanist guerillas planning, designing, and building the Natural State Now." The Idle Class. 01 Aug. 2014. Print. <http://idleclassmag.com/popuparkansas/.>  
---